Nomad City: 1mln$ in 1month
#webdesign #video #campaign
Samana Nomad City is a privately owned city of the future, situated in the Caribbean
It is also a startup, an investment vehicle and an open invitation to live and work with a million dollar view. Samana Group has been our client from day one and as project's investors, we would like to share a few information about it's recent success.
Imagine starting your day with a workout in the comfort of your personal gym, a serene yoga session, or a refreshing swim in the pool. Or picture yourself immersed in the vastness of the ocean, swimming alongside magnificent dolphins or whales. Embrace the opportunity to rejuvenate, reconnect, and rediscover your true self. Surround yourself with individuals who exude a zest for life, and experience a profound sense of tranquility by embracing a lifestyle aligned with your own values.
The Samana Peninsula in the Dominican Republic is a destination where nature takes center stage. Lush tropical forests blanket the hills, while pristine white sandy beaches grace the coastline. This remarkable location is truly unique, which is precisely why the individuals spearheading the Masterplan for its development are committed to preserving its environmental integrity.
Allow us to shed light on one of the inaugural project dedicated for people who want life on their own terms – Samana Nomad City.
What is Samana Nomad City
A place in paradise dedicated to work, life and regeneration
A community united by common values and motivations
Respect for nature, local people and the environment
Project with a quick return potential
The highest standard of implementation
The apartments are ready to move in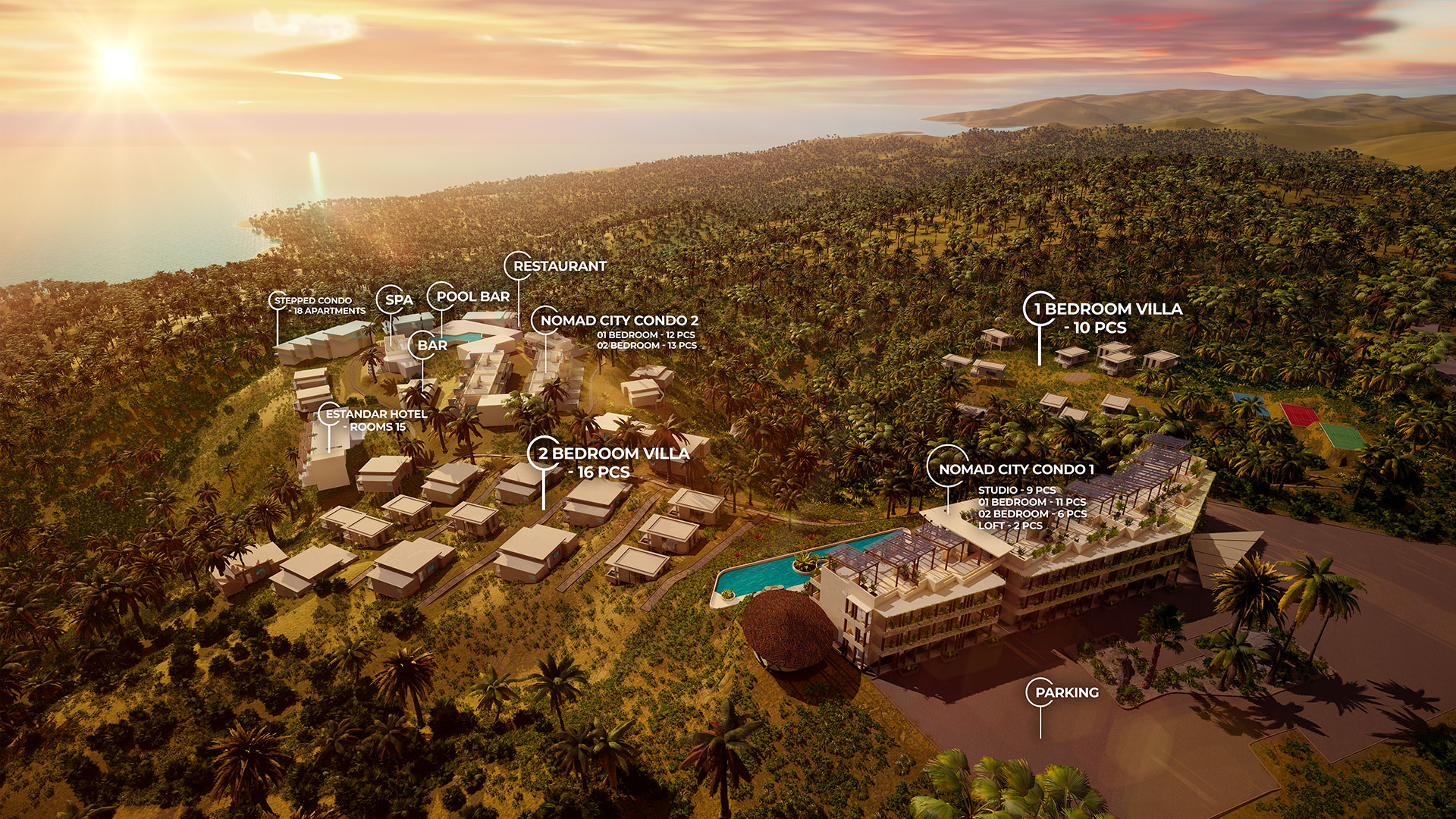 Samana Nomad City is so much more than just a residential area. The Masterplan includes 3  residential buildings – Nomad City Condo 1 with 28 apartments, Nomad City Condo 2 with 24 apartments and Stepped Condo offering 18 apartments, 10 one-bedroom villas, 16 two-bedroom villas, a hotel with 15 rooms, and an entertainment area with spa, bar and a restaurant. All of that to make your life even more blissful.
WORKING remotely? This could be of interest to you
These accommodations are designed for individuals who value remote work with access to high-speed internet (thanks to Starlink), electric vehicles, up to 70% lower electricity bills (thanks to SunRoof technology), and inclusive access to fitness facilities and training sessions (including yoga, kettlebells, and surfing).
In recent weeks, we proudly assisted the Samana Group in launching two successful crowdsourcing campaigns, and the results have been astounding. With great excitement, we announce that they have already garnered an impressive one million dollars in funding: gathered through the project's backers and private investors who contacted the Group directly. It fills us with immense joy to witness the growing number of individuals who believe in the possibility of embracing an alternative lifestyle and aspire to become our neighbours in this tropical paradise.
Take a look at a dedicated website where you can scroll through gorgeous apartments that are still available and book your new home in Samana.